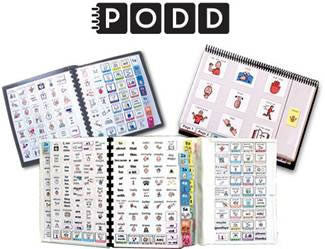 Pragmatic Organisation Dynamic Display (PODD) Communication Book: Direct Access Templates
For NDIS Managed Participants this PODD resource is available under the NDIS, Assistive Technology code:  05_222103252_01241_1_2  (4.3 Communication and Information Equipment: Letter and Symbol sets and boards).  Please contact us for a service agreement.
THE MANUAL IS INCLUDED IN ON THE PODD TEMPLATE RESOURCE

Self and Plan Managed Participants please purchase directly through this page.
Please note: Please be aware if ordering from overseas shipping internationally can take 4 weeks or more to arrive. 
DUE TO SHIPPING RESTRICTIONS CPEC IS UNABLE TO ACCEPT ORDERS FROM BRAZIL
This comprehensive resource provides a range of templates and detailed information for the production and use of Pragmatic Organisation Dynamic Display (PODD) communication books.
The 3-CD set includes:
A full version of the book titled Pragmatic Organisation Dynamic Display communication books. This publication describes the theoretical underpinnings and features of PODD communication books and includes a detailed section on teaching learning strategies
Templates for 14 different PODD communication books from simple early functions to complex syntax. These templates can be viewed and customised using Boardmaker version 5 or later (not included).
Each set of templates includes:
An information file providing a detailed description for that communication book`s language, page layout, vocabulary organisation and navigation pathways
Construction files providing specific instructions for printing and constructing each communication book.
---
We Also Recommend